Marvellous Midnight Feast Treats
Regular price
$15.95
Save Liquid error (snippets/product-template line 131): Computation results in '-Infinity'%
/
---
GINGERBREAD MEN SWEETS
Sugar, Glucose Syrup, Water, Inverted Sugar Syrup, Gelatine, Corn Starch, Acids: Lactic Acid; Gelling Agent: Pectins; Flavourings, Vegetable Oils (Coconut, Palm Kernel), Glazing Agent: Beeswax, Carnauba Wax; Colours: Caramel, Titanium Dioxide. May Contain Traces of NUT, TREE NUT & MILK.
------
CHOCOLATE SARDINES
Cocoa solids (30% min. Milk solids 14% min.), Sugar, Cocoa butter, Whole milk powder, Cocoa mass, Skimmed milk powder, Emulsifier; soya lecithin, Vanilla
Contains milk soya. May contain nut & gluten traces.
------
RED AND GREEN CANDY CANE POLES
Sugar, Glucose-Fructose Syrup, Invert Sugar Syrup, WHEAT Flour, Corn Starch, Vegetable Fat (Palm), Humectant (Glycerol), Acids (Malic Acid, Citric Acid), Potato Starch, Gelatine (Pork), Flavourings, Vegetable Oils (Coconut, Palm), Acidity Regulator (Potassium Citrates), Emulsifier (E471), Salt, Colours (E100, E120, E133).
------
ROSY APPLES
May contain traces of milk and soya.
Sugar, glucose syrup, acid: citric acid; flavouring, colours: E102, E104, E129, E142.
------
MARSHMALLOW POLES
Glucose-Fructose Syrup, Sugar, Water, Pork Gelatine, Maize Starch, Flavourings, Colouring: E162.
------
SUGARED MICE
Sugar, glucose syrup, water, softening agent (glycerine), flavourings (natural raspberry, natural pineapple, natural lime, natural lemon, natural orange), natural colours (carmine extract, curcumin extract, paprika extract, spirulina extract, vegetable carbon black)
------
GOLD FOILED CHOCOLATE STARS
Sugar, Cocoa Butter, Skimmed Milk Powder, Cocoa Mass, Whey ( Milk) Powder, Lactose ( Milk), Milk Fat, Emulsifier: Soya Lecithin; Natural Vanilla Flavouring.
Milk Chocolate Contains Cocoa Solids 25% minimum, Milk Solids 14% minimum.
ECOLOGI // FOR EVERY ORDER PLACED, WE WILL PLANT A TREE 
For every order placed with us, no matter how big or small we will plant a tree on your behalf – you can view our growing virtual forest and look at the donations that have been made so far HERE.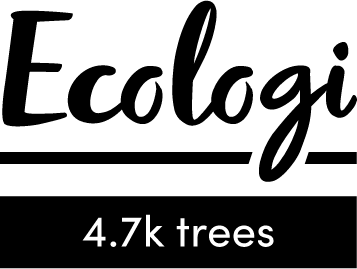 When we first spoke about setting up Norfolking Around, one thing we wanted to focus on was ensuring that our business was as ethical and sustainable as possible. We also agreed that we wanted to invest some of our profits into making a positive difference in the world. We live in a beautiful area of the planet, we and our children are extremely lucky to be surrounded by beautiful beaches and green fields. We want to do what we can to ensure that this is possible for our grandchildren and the generations beyond too.
When we came across Ecologi, we knew it was a perfect solution to help us make a real difference. 
We all know that one of the best tools to tackle the climate crisis and keep our temperatures from rising is to plant more trees. They are crucial to preventing ecological collapse.
Ecologi work with The Eden Reforestation projects who plant millions of trees around the world each month. 
In addition to planting trees, we are able to offset our carbon emissions for every package we dispatch.  We invest money into Ecologi, who in turn put this into eco projects which remove more greenhouse gasses than our own carbon footprint puts in! 
Each month they pick the best CO2 reduction projects across the world and ensure that our donations are going to the highest rated projects and making the most impact possible.